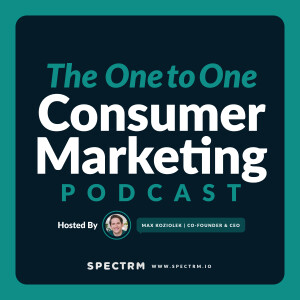 Monday Aug 07, 2023
Chime's Natalie Miles on Why Personalization at Scale Starts with Well-Managed Data
Ben speaks with Natalie Miles, Head of Marketing Technology & Personalization at Chime, a financial technology company that offers banking services. They discuss how personalization at scale begins with well-managed data, what benefits focusing on retention can bring to lifecycle marketing, and how to better collaborate with cross-functional teams. They also discuss common challenges to consumer marketing, including how to stand out among commoditization, how to better measure channels, and how to prepare for the future of consumer marketing.
Topics discussed:
Why good data management, data hygiene, and less fragmentation across records are the foundation for building personalization at scale.

Why lifecycle marketing "shines" when companies focus on retention, and how you can better leverage your channels with a focus on retention.

The common challenges to consumer marketing today and how brands can stand out among a commoditized landscape.

Why marketers shouldn't get hung up on superficial channel metrics and why you need the right channels to deliver the right message so that customers take further action.

What new technology will impact marketing, like using automation to make testing and experimentation faster and more scalable.

Advice for consumer marketers, including the need to be able to speak the language of other teams since marketing is so cross-functional.

The future of consumer marketing, which will include more consolidation of tools, more cross-functionality, and the rise of marketing generalists.
Comments
(0)
To leave or reply to comments, please download free Podbean or